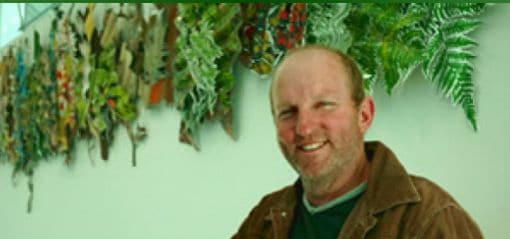 Jeff Thomson completed a BFA at the University of Auckland's Elam School of Fine Arts, majoring in painting and has worked full time as a sculptor since 1986.
Best known for his corrugated iron sculptures, he has used this common building material in a myriad of very imaginative ways: cut into strips and woven, screen-printed, stacked, knitted, or turned it into lace, and used to make moulds from which he casts other materials.

His sculptures reveal an obvious sense of humour and always bear the marks of their production, as this artist is as interested just as much in the process as much as he is of the finished product.
Probably the most iconic of these works is the corrugated iron clad HQ Holden Station Wagon from 1991, which the artist used on New Zealand and Australian roads for three years before retiring it. The car-sculpture is now in the collection of Te Papa Tongarewa, The National Museum and Art Gallery of New Zealand, in Wellington.
Jeff Thomson: www.jeffthomson.co.nz
March 19, 2019
Northcote Birkenhead Yacht Club