KPAT hosts an annual event to showcase an art speaker and report to the community on its activities.
Our guest speakers have been inspiring and shared their stories with us.
To register on our invitation list for these events, please email info@kpat.org.nz
2021 David McCracken https://davidmccracken.nz/
David began sculpting in wood in his teens. Working for a time in the performing arts led him to design props and sets for the theatre, dance, and films. He quickly saw the potential for using steel fabrication techniques to produce large works and began to make sculptures from scrap, found objects, and other readily available, inexpensive materials.
He had his first major solo exhibition at the McPherson Gallery in 2000 and has exhibited widely since then in solo gallery shows and in many outdoor exhibitions, including Sculpture on the Gulf and Sculpture by the Sea (in Sydney) He has received several awards for his work.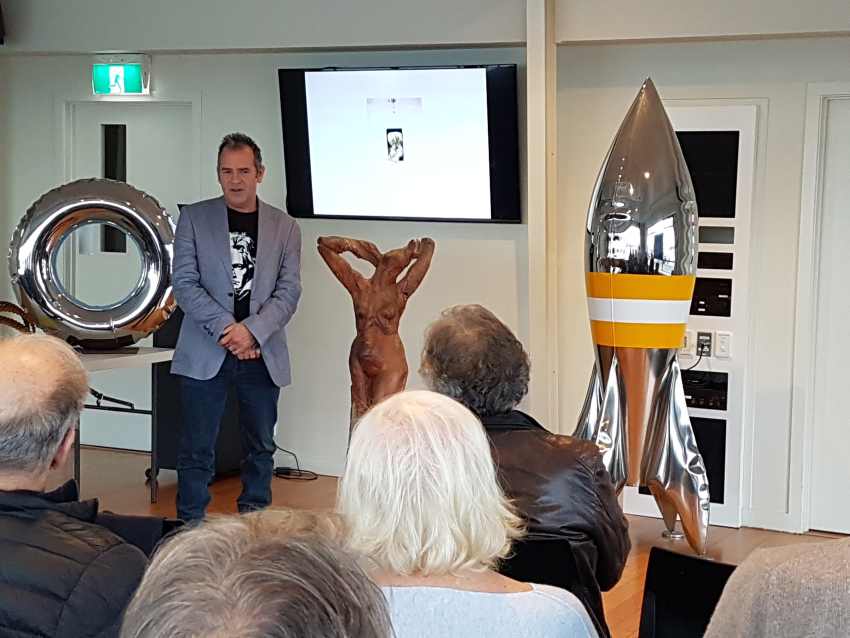 He works primarily in fabricated steel, elevating humble objects of the every day into memorable sculptures. He has developed some highly innovative techniques in his work, such as 'drop-forging', where large steel weights are dropped onto sheet aluminium from a crane, and 'hydro-forming', a way of stretching steel with hydrostatic pressures.
He has extended his considerable metal fabrication skills to include aluminium, stainless steel, titanium, and corten steel and began casting in bronze and stainless steel.
All he requires of these techniques is that they are reduced to the fewest possible actions and remain economical and 'analogue in spirit'.
David was selected to create KPAT's first major commission, a work in stainless steel, now installed in Oruamo Park in Glenfield.
Previous Speakers

2020: Virginia King
2019: Jeff Thomson
2017: Marte Szirmay
2017: Michael Parekōwhai
2016: Phil Dadson
2015: Greer Twiss
(Click on the speaker's name for more information.)